A
Pain of Salvation
azon kísérletező kedvű zenei formációk közé tartozik, akiktől sosem tudhatja az ember, milyen folytatást várjon.
A zenekar idén készítette el a hetedik stúdiólemezét, amely önmagukhoz híven megint egy kicsit más világba kalandozik. A zenei stílust szűkszavúan és nagy általánosságban a progresszív jelzővel lehetne illetni, ám a
Pain of Salvation
mindig is sokkal többről szólt: a zenei stílusokat elválasztó határok ledöntéséről, más zenei elemek saját hangjukba történő illesztéséről.
A svéd banda már a kezdetektől belopta magát a zenerajongók szívébe rendkívül komplex és érzelemdús lemezeivel, amiket ma már a progresszív metal alapműveiként is szokás emlegetni.
A koncepciókban gazdag albumok sorában a
Remedy Lane
bőven tartalmazott magyarországi vonatkozásokat is, ami után a csapat egy szimfonikus elemekben is bővelkedő, a létkérdéssel, Istennel foglalkozó művet is összerakott. Innentől a banda saját rajongóit is megosztotta egyre élesebb stílusváltásaival - és ez a folyamat azóta is zajlik.  
Az együttes zenei agya és arca
Daniel Gildenlöw
, aki a zene megkomponálásán túl gitárjátékával és nem mindennapi hangjával is meghatározza a mindenkori irányvonalat.
Az utóbbi időben több tagcserén és egy alapos fazonváltáson is átesett alakulat természetesen ezúttal is rengeteg meglepetéssel szolgál legújabb lemezén, ami annak ellenére, hogy mind több színt használ fel a végtelen zenei színpalettáról, mégis jellemzően, mondhatni tipikusan a
Pain of Salvation
sajátosságaival rendelkezik.  
A
Road Salt One
nem könnyű hallgatnivaló: egy óriási zenei olvasztótégely, ami több olyan forrásból merít inspirációt, amelyek normál esetben nem feltétlenül férnek meg egymás mellett, ám Gildenlöw intelligens és hozzáértő komponálási készségén keresztül mégis olyan természetes folytonossággal állnak össze szerves egésszé, hogy azt öröm hallgatni.
Elsőre persze lehet kicsit túl sok és meglepő, a hallgató is csak kapkodhatja a fejét, mert sosem tudhatja előre, mivel sokkolják a következőkben, ám ha kellő nyitottsággal látunk neki, akkor néhány hallgatás után nagyon meg lehet szeretni.
A különböző stílusok és témák ráadásul nem csupán külön dalokban, hanem azokon belül is keverednek, ami még komplexebbé teszi az összképet még annak ellenére is, hogy a zenészek korábbi önmagukhoz képest is jobban visszafogták magukat és letisztultabbá egyszerűsítették a végeredményt.  
A
Pain of Salvation
látszólag kilépett a metal zene kereteiből, helyette inkább a hetvenes évek lágyabb, retrós rock hangzását vették alapul. A dalokban azonban továbbra is rengeteg hirtelen hangulat- és stílusváltás hallható és
Daniel Gildenlöw
roppant kifejező, érzelemgazdag éneke is maradt a régi, azonban a zenének megfelelően és azzal párhuzamban ezt is tovább színesítette: azon túl, hogy itt is meggyőzően bizonyítja, mekkora rockénekes, helyenként soul, vagy akár gospeles témákkal is ügyesen megbirkózik, továbbá multiistrumentalista lévén egy sor plusz hangszer megszólaltatásával is támogatja a kívánt hangzás elérését.  
A lemez legkiemelkedőbb tétele a "Sisters" című lírai dal, ami a zenekarra jellemző rendkívül érzelmes előadásmódban egy megrázóan szomorú és szépséges, lassan építkező darab. Személyes kedvencem továbbá a korongot záró "Innocence" is, ami egy kicsit megidézi a
Pain of Salvation
dicső progresszív metalos múltját egy fenségesen hömpölygő, mégis elszállt nóta erejéig.
De a többi nóta is zseniális a maga nemében és remek példája annak, hogy maradt még bőven olyan, eddig fel nem fedezett út, amelyet érdemes lenne bejárni.
A "No Way" funkos, hard rockos, a "She Likes To Hide" bluesos, az "Of Dust" gospeles, a "Tell Me You Don't Know" countrys, a "Linoleum" pop-rockos megközelítése, valamint a helyenként már-már revübe illő zene ("Sleeping Under The Stars") nagyon izgalmas kalandra hívják a hallgatót.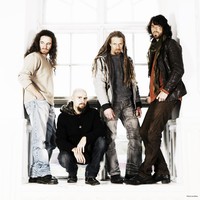 A
Pain of Salvation
valószínűleg megint elveszti néhány keményvonalas rajongóját a hirtelen váltásnak köszönhetően, de véleményem szerint a
Road Salt One
egy újabb mérföldkő, méghozzá nem csupán a zenekar történetében bír kiemelt fontossággal, de a zenetörténetben is nagy hatású lemez. 
A skandináv zenekar jövő év elejére harangozta be a nagy hatású produkció folytatását, de addig is a rajongók nagy örömére
2010. október 24-én az A38-on
élőben is bemutatja lemezét.  
Az együttes tagjai: 
Daniel Gildenlöw - ének, gitár, basszusgitár, billentyűk, orgona, mandolin, balalajka, dob
Fredrik Hermansson - billentyűk
Johan Hallgren - gitár, háttérének
Léo Margarit - dobok, háttérének  
Közreműködtek:
Jonas Reingold - basszusgitár
Gustaf Hielm - basszusgitár
Mihai Anton Cucu - hegedű
Camilla Arvidsson - hegedű
Kristina Ekman - viola  
A lemezen elhangzó számok listája:
1. No Way
2. She Likes to Hide
3. Sisters
4. Of Dust
5. Tell Me You Don`t Know
6. Sleeping Under the Stars
7. Darkness of Mine
8. Linoleum
9. Curiosity
10. Where It Hurts
11. Road Salt
12. Innocence  
Diszkográfia:
Entropia (1997)
One Hour by the Concrete Lake (1998)
The Perfect Element, part I (2000)
Remedy Lane
(2002)  
12:5 (2004) koncert
"BE" (2004)
Scarsick (2007)
Road Salt One
(2010)
Hegedűs Tamás - 2010. október 22.