Hallgatnivaló
Interjú
Interview: GOLD – February 2013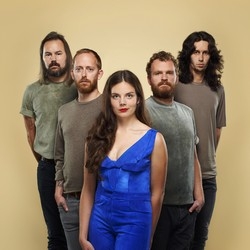 Which came first: a singer without a band, or a band without a singer?
Thomas Sciarone: GOLD was formed by singer Milena Eva and me, when I left The Devil's Blood in 2011. We had been talking about making music for a while and now we actually had the time and energy to make it happen. Drummer Igor and bass player Harm were long time friends of mine with whom I had shared many musical experiences before. Guitar player Nick was introduced to us by a mutual friend. He happened to live around the corner and his talents were perfect to complete the band.
Why did you name the band "GOLD"?
"Gold" is my favourite ABBA album. And just like ABBA, our name is written in capitals only.
You are a relatively new band, still, you received quite a lot of press coverage and the audience also seems to be very interested in your music. How does this kind of attention feel like?
We take this band very seriously. Our means are limited, since we have no powerful label, booking agent or management behind us. All we can do is make sure that we work as hard as we can to make us stand out. Even though we have hardly any budget, we have already released 3 video clips. We always put great effort in our artwork and band pictures and most of all, we are very focused on writing music that adds something to the music scene. We're happy that this doesn't go unnoticed.
Did you expect this kind of success?
I'm not sure what kind of success you're referring to. To us it feels like we only just started and only a handful of people have actually heard our band. There is a lot of territory to be conquered and a lot of hearts to be won and we are happy to undertake this quest. We've made some important steps, but the journey only just got started.
You released a single with "Gone Under" and "Medicine Man" with Jos Hoevenaars playing the bass, but on Interbellum Harm Haverman played this instrument. What was the reason for the line-up change?
When we got Jos to play the bass, we always knew that it would be just for the single. He has his focus on his own music and songwriting and had no urge to be part of the band. So when we were done recording the single, we got Harm to be a full-fledged part of the band.
What`s your song-writing method?
Milena and Thomas write all the songs acoustically, creating a song in its purest form. Whenever they are satisfied they bring the song into the rehearsal process and every band member is free to add his character and vision to the song.
How did you decide which song should be featured on the album and which one should be left out?
We already knew we wanted an album that would fit on a single LP, so it had to last about 40 minutes. These 9 songs were the ones that worked best together, that had the right dynamic and diversity for an album of this length.
Have you originally planned the album to be as diverse as it is, or is this due to your constantly changing moods?
As a band we don't like to limit ourselves by a certain sound or genre. We write songs and songs come in all different forms and moods.
How satisfied are you with the CD cover?
If we weren't satisfied with this cover, we wouldn't have released it. Milena and I run a little design company under the name of Studio Waan and we are responsible for all visual aspects of GOLD, including the cover artwork.
The peacock is a very common animal in our part of the world, but only in captivity and never with the freedom to fly. So, when this immense and beautiful bird, spreads his wings in full flight, this is a portrait of power that is unknown to us. It has a big ominous quality to it. What is wrong? Why is it departing? Where is it heading? To us, this was the perfect visual representation of the album's main theme of ominous instability.
We had a taxidermist prepare this peacock especially for our artwork and the brilliant photographic team of Mathijs Labadie and Pim Top captured it perfectly on film. For your information: it died a natural death.
Some songs were already released prior to the album's release. Whose idea was this?
This was our idea. We wanted to gain some experience before recording the album, since it was a whole new thing for all of us. We hadn't recorded together yet and we had no experience with the Amsterdam Recording Company so far, so this was a good way to get familiar. Next to this, we also wanted to have our name out there already and this single was a good way to present ourselves.
It`s nearly impossible to list all the styles that influenced you. Which bands or artists are your personal favourites?
Our influences and favorites are many. We are not bound to a certain style and genre and we have a soft spot for defining and pioneering artists. Classics, such as from Black Sabbath to Fleetwood Mac, from ABBA to Guns n' Roses and from The Velvet Underground to Iron Maiden. But also contemporary acts like The Knife and Jaga Jazzist.
How difficult is it to render the album`s mood in a live setting, and how well does the audience receive it?
We are still learning every show. We've experienced that a few things that work perfectly on the album, didn't really come across live and so we've made a few alterations here and there. Overall the crowd seems to react very well to the live performances and we are forcing ourselves to grow into a better band with every show we play.
Until now you have given only a few concerts, and we haven't heard about too many concerts planned for the future, either. What is the reason for this?
We are working hard to get a tour together. To us this is very important. Now that the album has been released and well received we cannot just sit down and wait for the people to come to us. We need to get in the van and play stage after stage after stage. To me that's also the most exciting part about being in a band. On stage you can add this huge portion of energy and personality to your music and there's this direct contact with your crowd. This is where the music comes to life and the people can react to it in its purest form.
When do you come to Hungary to play live?
Whenever we get a solid opportunity to do so. Anyone capable in bringing us over is free to contact us. In the meantime, we will be trying to get this tour together and hoping we can cross your borders as well.
What do you expect of the future?
We can only expect that we as a band do everything we can in our power to get GOLD as far as possible. Our ambitions are to play all the great stages and festivals from Alaska to Auckland. Let's make it happen!