Ad Astra néven új kiadó indult, amely a sci-fi és fantasy kortárs remekeiből igyekszik válogatni. Első négy könyvük a XIX. Budapesti Nemzetközi Könyvfesztiválra jelenik meg. A kiadó szerkesztője az íróként és fordítóként is elismert Kleinheincz Csilla, akivel Uzseka Norbert készített interjút.
 
Elnézést, hogy így kezdem, de miből gondoltátok, hogy a köztudottan nehéz helyzetben lévő magyar könyvpiacon pont egy újabb kiadóra van szükség, ráadásul olyanra, ami végképp underground irodalmi irányzatokra specializálódott?
Az Ad Astra esetében a személyes preferenciáink, a küldetéstudatunk és a még betöltetlen piaci rés egymásra találásáról beszélhetünk – hogy szerencsés-e, ez majd még elválik. Ahol a fantasztikumban utazó könyvpiac többi szereplője biztos klasszikusokra, ifjúsági bestsellerekre és jól körülrajzolt alzsánerekre utazik, ott ugyanazzal már nem lehet nagyot robbantani, ellenben a furcsa, a provokatív, az idehaza még ismeretlen könyvek és szerzők szépen megférnek a már bejáratott kiadók által meghagyott résekben, és talán virágzásnak is indulnak.
 
Hogyan alakult, indult el a kiadó?
A tavalyi év végén egy, a hazai könyvpiacban lehetőséget látó, sci-fi rajongó befektető keresett meg. A közös munka során alakult ki a kiadó neve, arculata, és az az izgalmas lista, amelyről szeretnénk minél több címet idehaza megjelentetni.
 
Mik a fő célkitűzések, milyen könyveket szeretnétek kiadni?
Egy-két preferált szerző életművének kiadása helyett szeretnénk az ujjunkat rajta tartani a kortárs fantasztikum ütőerén, és az újat, a frisset, a meghökkentőt, elgondolkodtatót és szokatlant megkeresni. Ugyan a terveink között akadnak régebbi könyvek is, de többségét olyan regények, novelláskötetek adják, amelyek csak az elmúlt években szereztek hírnevet. Mindegy számunkra, hogy fantasy, sci-fi, horror vagy mágikus realizmus: a lényeg, hogy minden egyes könyv olyat adjon, ami egyedi és utánozhatatlan, aminek élménye sokáig az olvasóval marad, és kiemeli a többi olvasnivaló közül. Fontos számunkra a téma, a stílus és az ötlet egysége és eredetisége, és szeretnénk hangsúlyozottan figyelni arra, hogy a világ minden tájáról válogassunk műveket.
Végső soron az a célunk, hogy ha minőségi, kortárs fantasztikumról esik szó, mi legyünk az első kiadó, amelyik az olvasók eszébe jut.
 
Miért pont Ad Astra?
Na hallod, ennyi nagyra törő tervhez csakis egy hasonlóan nagyra törő név illik!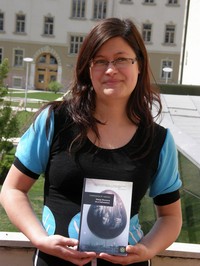 Röviden be tudnád mutatni az első négy könyveteket?
A felhúzhatós lány egy díjesőben fürdőző, remek és sodró tempójú, Thaiföldön játszódó biopunk sci-fi, elszabadult géntechnológiával, szabadalmazott növény- és állatfajokkal, mesterséges emberekkel és az általuk felvetett politikai és etikai kérdésekkel. A Zoo City egy dél-afrikai thriller, gettómocsokkal, gyilkosságokkal és a bűnösöket kísér(t)ő állatokkal. A Kvantumtolvaj egy finn szerző, Hannu Rajaniemi nagy dobása, tele sziporkázó ötletekkel, amely a sármos úri tolvaj és a visszahúzódó detektív figuráit egy káprázatosan egyedi Marsra helyezi, és minden fejezetben akkorát csavar a történeten, hogy az ember győzzön ámuldozni rajta.A Marija Morevna és a Halhatatlan pedig az egyik kedvenc írónőm, Catherynne M. Valente regénye, amely az orosz népmeséket és a fantasztikum és a szürreális színeivel bevont sztálini Oroszországot használja fel, hogy egy kegyetlen kapcsolat krónikáját megírja.
 
Ezek közül egyet magad fordítottál, s a többit is olyan fordítók, akikkel már korábban, a Delta Visionnél töltött időkben is dolgoztál együtt. Mi alapján döntöd el, melyik könyvet ki fordítsa, szerkessze, ki készítse a borítót, stb.?
A kezdeti tervezés időszakában még nem akartuk nagydobra verni a kiadó indulását, ezért elsősorban ismerős és megbízható fordítókat kerestünk meg, de azóta persze többen is jelentkeztek hozzánk, hogy szívesen fordítanának. Nagyjából ismertem mindhárom másik fordító ízlését, és azt hiszem, szépen egymásra találtak a könyvekkel.
Amikor a kiadó könyveinek külsejét kellett megtervezni, akkor rögtön Csigás Gábor jutott eszembe, aki annyi szép borítót készített már. Visszafogott, a borítógrafikának teret adó tervet kaptunk, és ő készítette a Marija Morevna és a Halhatatlan képét is. A Kvantumtolvaj és a Zoo City borítóját Sánta Kira festette, akivel szintén sokszor dolgoztam korábban együtt, és csak A felhúzhatós lány esetében vettük meg az eredeti grafikát, mert annyira megszerettük.
 
Elárulható bármi arról, hogy mi minden várható még az Ad Astrától a közeljövőben? A kérdés arra is irányul, hogy azon kívül, hogy könyveket adtok ki (ami persze önmagában is hőstett), vannak-e más jellegű terveitek, akár a könyvek népszerűsítése kapcsán, akár a majdani olvasótáborotok részére?
A következő könyvünk az ünnepi könyvhéten jelenik meg, a kortárs sci-fi egyik legjelentősebb írójának többszörösen díjnyertes kötetével jelentkezünk, de többet egyelőre nem mondhatok…
Könyveken és e-könyveken túl egyelőre nem nézünk, de még csak most jelennek meg az első kiadványaink, kérdezz meg erről egy év múlva, amikor jobban elhatalmasodott már rajtam, rajtunk a megalománia! J
 
Magyar szerzőkre számíthatunk? Netán olyan tematikus novella válogatásokra, amilyeneket anno a Delta Visionnél csináltatok (77, Erato)?
A magyar szerzőkre is nyitottak vagyunk, ugyanakkor kis kiadó lévén, kötött tervekkel azt tudjuk csak mondani, hogy amennyiben egy magyar kézirat van olyan jó, mint a listánkon szereplő könyvek bármelyike, akkor minden esélye megvan, hogy megjelenjen. Ha elmarad azoktól, akkor az esélyei igen csekélyek. Minden egyes plusz könyv egy másik elől veszi el a helyet, és ugyanazok az elvárásaink minden egyes megjelenésre kiválasztott műnél: lepjen meg, varázsoljon el, gondolkodtasson el! Ez minden.
De valóban, tervezünk egy zárt körben meghirdetett, tematikus antológiát is, viszont erről jelenleg nem árulhatok el többet…
 
Itt adja magát a kérdés, hogy a Te reménybeli új könyveidet vajon az Ad Astra adja majd ki?
Nem akarom ráerőszakolni magam az Ad Astrára, annál is inkább, mert amiken most dolgozom, mind inkább más kiadók profiljába illenének bele.
 
Mi a helyzet az Ólomerdő folytatásával, meg bármi egyéb írásoddal? Hiszen az utóbbi időkben csak novelláid jelentek meg itt-ott, de a Nyulak – Sellők – Viszonyok című novellásköteted óta már két és fél év telt el, az Ólomerdő óta pedig öt…
Érzékeny pont ez… Az elmúlt évek a novellákat leszámítva terméketlenek voltak.
Az Ólomerdő történetével mindenesetre haladtam, megírtam a kisregényt, amely közvetlenül a regény eseményei után játszódik, és átvezet a "valódi" folytatáshoz. Abból viszont nincs kész szinte semmi: háromszor is nekifutottam, mindháromszor kitöröltem az egészet. Sőt, még az Ólomerdőhöz is hozzányúltam, most dolgozom éppen át az elejét, amivel, remélem, nem akasztom ki nagyon az eddigi olvasóimat.
S közben már évek óta dolgozom egy cseppet sem fantasztikus regényen, amely úgy készül, mint a Luca széke (már a korábbi interjúban is emlegettem, olyan régi). Nem sürgetem viszont, olyan a történet, hogy minden részletének be kell érnie.
 
Több novellád megjelent angolul. Mik ezek, hogy jött a lehetőség, és várható-e ilyen fronton folytatás, illetve az, hogy ez által megnyíljon a regényeid előtt is a kapu a külföldi kiadás felé?
Eddig négy novellám jelent meg angolul, ami nem sok, különösen, hogy egy írónak kint is állandóan jelen kell lennie a piacon, hogy ne essen ki az olvasók és a szakma agyából. Az biztos, ha lenne a regényeimből angol fordítás, akkor lenne elképzelésem, hol kopogtassak velük, viszont hatalmas munka lefordítani ezeket, és anyanyelvi lektor nélkül nem is vállalkoznék rá.
A novellák fordítgatása viszont annyiban jót tett, hogy sokkal gördülékenyebben és magabiztosabban írom át angolra a saját írásaimat. Talán egyszer még az Ólomerdőbe is belevágok, de szigorúan csak az átdolgozása után.
 
Az egyik novella egy leszbikus antológiában jelent meg, ami annyiban érdekes, hogy Neked ugye van kislányod, férjed, szóval felmerül a kérdés, hogy hogy került a Te írásod oda?
Szerencsére csak az alapján válogattak a szerkesztők, hogy a novellákban – lehetőleg nem áldozatszerepben – leszbikus szereplők is felbukkanjanak (egy férfi írása is bekerült). A Nyulak eredetileg az Expanded Horizons magazinban jelent meg angolul, ott figyelt fel rá az egyik szerkesztő, és elkérte az antológia számára. De nagyon büszke vagyok rá, mégiscsak egy "év legjobbja" kötetről van szó, ráadásul olyan szerzők mellett szerepelek, mint Rachel Swirsky vagy Ellen Kushner…
 
Aktívan részt veszel a hazai SF/F életben, különféle rendezvényeken előadásokat tartasz, kerekasztal beszélgetések meghívott résztvevője vagy, cikkeket írsz az SFmag nevű portálra. Hogy látod, milyen helyzetben van itthon a spekulatív irodalom, és merre halad?
Olvasói szempontból még mindig kínzó a lemaradás a világhoz képest, ugyanakkor sorra jelennek meg az izgalmasabbnál izgalmasabb könyvek, és nem csupán az Ad Astránál. J Régi adósságok és friss sikerek egyaránt olvashatók magyarul, és egyre nagyobb az a réteg, amelyik nem vár, hanem közvetlenül angolul tájékozódik, tudja, mik a trendek, az újdonságok, és már ezekhez igazítja az elvárásait, amikor fantasztikus irodalmat keres. A magyar szerzőknek ilyen körülmények között kell megfelelniük, megtalálniuk az olvasóikat, és amelyikük ezt nem ismeri fel, az gyorsan vagy lassan, de menthetetlenül lecseng. Az már látszik, hogy a divatos trendeket – vámpírok, boszorkányok, űroperák – hamar meglovagolják a hazai szerzők is, de számomra még fájóan kis számban jelennek meg az egyedi és szokatlan könyvek.
Az lenne üdvös, ha nem csupán a külföldi, díjnyertes alkotások inspirálnának, de meglenne az az újító erő, élet és pezsgés a hazai fantasztikus irodalomban is, hogy egyedi és formabontó megoldásokat hívjon elő az írókból. De hogy ne rohanjak ennyire előre, első lépésként megelégednék azzal, ha nem a túlnyomó többség, hanem csak a kisebbség lenne a hazai megjelent művek között az olvashatatlan, klisépufogtató unalom. Mert sajnos a számos külföldi (és nem csupán angolszász!) fantasztikus könyvhöz mérve elszomorítónak érzem a különbséget, mind az ötletek, mind a stiláris megoldások terén. De nem csak én vagyok ezzel így, látom, olvasom, visszahallom, hogy az olvasók nagy része eleve úgy vesz kezébe hazai fantasztikus szerzőtől könyvet, hogy lejjebb tekeri az elvárásait. Ez azonban hamis képhez vezet. Ne legyen a hazai kicsit se sárga vagy savanyú, de cserébe ne is védje meg pusztán az, hogy a miénk!
Szerencsére akadnak olyan írások, amelyek nemzetközi viszonylatban is megállják a helyüket. László Zoltán Százezer Armstrongja megjelent angolul a World SF News oldalon, Lőrinczy Judit ötperces sci-fi darabját Londonban mutatták be, Csigás Gábor novellája hamarosan Warren Ellis írásával egy kötetben jelenik meg, Takács Bogi és Hegedűs Ilona rendszeresen publikálnak angolul, és rajtuk kívül is vannak még számosan, akiknek az írásait örömmel és szívesen olvasom.

 

Uzseka Norbert - 2012. április 21.