Hallgatnivaló
Ajánlók
Music from Around the World, or Subjectively on World Music - 19.
The 15th Womex  took placein Budapest, and the huge number of excellent concerts was not the only reason why it was memorable for me, but also because of the great number of songs I was lucky enough to hear here. This is why I am starting this new column, in which – if everything goes according to plan – I am going to elaborate upon the demos and records I received during and after the Womex in short articles. Since, in most cases, these are just promotional materials made up of only a couple of songs, I'll try to describe three albums in one article – from a strictly subjective perspective, and with some trivia. The reason why I think this matter is important because although our folk music is excellent, we have some national bands and performers who are eligible for exportation and sometimes their foreign colleagues organize concerts around these parts, yet this nation still has many miles to go. We are not only short on major Sängerfests, but also on bigger solo tours, and everybody should decide on their own whether the reasons behind this are financial problems or anything else. One thing is certain: there is a wide variety of world music out there, and some of them are more (or less) worthy to grace our music players.
Translated from Hungarian by: Ferenc Benkő 
Mariachi Flor De Toloache: Mariachi Flor De Toloache (CD)
By saying the word mariachi, I'm more than certain that it'll remind most of the Hungarian movie fans to the first episode of the Mariachi-trilogy, directed by Robert Rodriguez, in which we got a taste of such musicians/bands. Naturally, this was only a peek at the more than 200-year-old history of mariachi, this characteristically Mexican music style, which is almost as iconic to them as czardas for us. If everything goes down without a hitch, soon an article on a compilation album of this music will appear in this column, but until that, I'm going to praise the first album of a really unique formation.
The band Mariachi Flor De Toloache from New York does not fit into the regular pattern, but not only because they live a couple hundred miles North of Mexico. This is nothing compared to the fact that this band is entirely made up of women (I don't have to know to count to list such companies), and more to this, the participants of a specific concert are always set to match the local needs, so sometimes 3, and sometimes 10 members are on the stage. So far, so good, but all this would be for naught if they would not play such excellent music filled with surprises, courtesy of the duo of Mireya Ramos and Shae Fiol; no wonder their first album was nominated to the Grammy Latino in 2015.
As the first sounds emerge, they immediately evoke the feeling that instead of the Big Apple, I am welcomed in the middle of a Mexican fiesta, with all the sunshine, peculiar clothing and Latin melodies, where people can do nothing but enjoy themselves (and, of course, listen to the music). More to this, the quality of the ladies' work is good enough that uninitiated mariachi enthusiasts won't be able to tell the classics ("Cucurrucucú Paloma", "Bésame Mucho") from the band's own songs (Dicen) based solely on performance. Not to mention that there are no signs of monotony or uniformity, the tracks of the album were constructed with too much deliberation for these to happen. For example, in the song "Let Down", the band takes turns at singing in English and Spanish, and is brave enough to leave the traditions of the mariachi behind. And this is not an only case, for the last sing entitled "Blue Medley", has specific jazzy overtones.
It is simply not enough to listen to this album only once, for it guarantees fun and draws the listener towards the dancefloor, not to mention that it is able to modernize century-old mariachi traditions and make this music alive and fresh, and in the meantime, it proves to all enthusiasts that the band Mariachi Flor De Toloache (named after the poisonous flower of the night) have a bright future ahead of them. All I'm waiting for is another one of their high-standard records.
Recommended: for the fans of mariachi, and all in all, Mexican and Latin music-enthusiasts.
The record was published in 2014.
Official site: www.MariachiNYC.com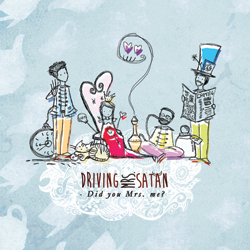 Driving Mrs. Satan: Did You Mrs. Me? (CD)
I accept that this record  is a somewhat strange choice for this article, for its roots are not in folk music, but since I'm having trouble with classifying it into any pre-existing category, I don't consider its inclusion a far-fetched solution. This is the second album of the four-member formation from Naples, and, keeping up with their traditions, they perform heavy metal classics formed to their own image. With this, they realize what I've been missing from my favourite hardcore genre – namely that the purpose would stop being a more and more loyal reprise or more brutal presentation, but to evolve these well-known songs. The acoustic versions show the way for this, but for some reason, I always felt that something is missing – I thought that so much more could come from these numbers. For example, mix them with the style of jazz!
In the beginning, there was the band called Steve 'n Seagulls, who gave these songs a country and bluegrass coating – this was good, as well, but all they did that they switched the traditional instruments to something else, but did not touch the basics (with a few exceptions). And along came this weirdly named formation, and they made my long-time dream a reality: they refurbished and remade the hit metal songs of the 1980s.
If you ask me, the album lifts off at the second song, and I don't want to be overly dramatic, but they almost made a Black Sabbath-song into a nursery rhyme, or, if you want to put it this way, into and indie-pop hit melody. The voice of Claudia Sorvillo really adds something to every number, hearing some classical "roughnesses" like the most famous opuses of Venom or Slayer (for the latter, the reformation of the opening drum section was especially memorable). But I could bring up their Metallica cover ("For Whom the Bell Tolls"), which, in their hands, was reformed into a sappy ballad. The best piece was "Antisocial" by Trust/Anthrax, for they made it into a pop song that could easily become a permanent entry on the hit lists.
I can't tell what would others experience during Did You Mrs. Me?, but for me, it was a small miracle, for I did not anticipate such an inspired approach and that after so many metal parodies, here comes this small Italian formation, and reforms these well-known hits from their roots, while still remaining completely respectful. I expect many similar records from them, and once in a lifetime, it would be good to just chill to the melodies of "Running Free" or "Raining Blood" live.
Recommended: for all metal enthusiasts who are open enough to experience new things and new approaches.
The record was published in 2016 (Agualoca Records).
The homepage of the publisher: https://drivingmrssatan.com/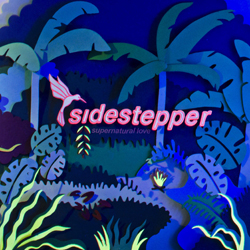 Sidestepper: Supernatural Love (CD)
If memory serves me well, the last time a Colombian band was mentioned in this column, it was the single of Rancho Aparte Chirimía sometime around last November, so it is high time to choose a memorable record from this country. The group called Sidestepper was formed twenty years ago, and its main purpose is to mix the traditional dance tunes (cumbia, salsa) with electronic dance music.
In my opinion, this is flawlessly executed, and a good example for this is their sixth record, which was published this year. It begins with the rhythm section giving everything they got, and it results in the listeners finding themselves in another world, for the effect brings back something from the past, when our ancestors lived and made music in tribes somewhere along the borderlands of Africa and Colombia. The voice of Erika Muñoz adds feminine sensitivity and softness to the song called "Fuego Que Te Llama", and with the addition of the repeating melody, the song as a whole becomes almost hypnotic.
Interestingly enough, the presence of the electronic style is less powerful than the later performances. For example, the title song called "Supernatural Love" has a very contemporary sound, and with the combined and surprisingly well-assorted effects of singing, guitar and electronics, this becomes one of the high points of the record.
But this is not the only occasions, for there is the "Hear the Rain Come", where, instead of singing, the performance is closer to rhythmical recitation, and all in all, it has a hypnotic, almost blues-like tone;  all in all, I felt that if I listen to it some more, the music will nestle me. However this is an exception, mostly there are powerful melodies like "Lover" that make up the record. To sum it all up, it is a well-constructed, unified album, and the separate tones construct an organic whole, and the final product is as contemporary as it can be.
Recommended: everybody who is a fan of traditional Colombian music, yet the enthusiasts of electronic dance music will also enjoy it.
The album was published in 2016 (Real World).
The Facebook page of the band: https://www.facebook.com/Sidesteppermusic