Hallgatnivaló
Ajánlók
Wagakki band: Yasou emaki (CD) - english version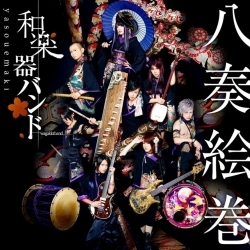 I know that since Japan is at the other end of the world, and we very rarely get to see bands from there, hardly anyone knows Japanese music around here. I, myself, with a couple of years of Mondocon participation behind my back, can of course name a few, but I haven`t been touched by any of them deeply enough to want to get to know them better and to do research on their albums. However, in the Jjanuary of 2014, a music video was released on Avex`s YouTube channel, and I must admit, I watched it with my mouth wide open – it was so new, so good, so spectacular, that due to the lack of other means, I started following Wagakkiband`s whereabouts via their clips.
They mix western rock and metal with traditional instruments and vocal styles in their music. They do so proportionally, without putting too much emphasis on either, and the eight musicians perform it very professionally and at a high quality. Take, for example, the video mentioned above, which has been seen by 200 thousand people in four days, and 44 million within two years. This is mind-blowing even if we compare it to the population of the country, and subtract the roughly 30-40 views that were generated by me.
.
Of course, to achieve this, the band had to tour extensively and introduce themselves overseas as well – and convince the audience each and every time that the musicians playing on stage are very real, and their music is of quality. The challenge appears to have been completed, which is proven not only by the number of weeks spent on the charts, but by the fact that for this year`s (2016) SXWS festival, WagakkiBand was chosen as one of the performers (fun fact: the 6 world music performers have been suggested by Womex).
WagakkiBand`s second album came out last September, right away in at least six different versions, which means to me that they already have quite a serious fan base who will buy at least two different versions each, since the extra music videos or a live performance in BlueRay is not something one can pass on.
This record is so colourful that we can find a distinct example for practically every characteristic that made the band famous. Those who suspect that this band is another marketing stunt made up by a creative team between two cups of sake, should listen to "Fuurin no utautai", which clearly states: this is art, not a long marketing campaign. Those who wished for a replica of "Senbonzakura" with this album, can listen to the opening track "Ikusa" with its rich orgy of energy. I recommend this track for those who don`t know the band yet, partly for the visuals (check out the next clip), partly for the electrifying performance, for the elaborate tempo changes and the competition among the instruments. It is already clear from this piece only that the traditional instruments are not only for show, but they play a very important role;, they do not take a backseat, but contribute to the music, while also showing that Suzuhana Yuko`s voice is vital to this performance. The only thing I would like to add is that "ikusa" was chosen as the opening song for an anime.
At the very beginning of the second track "Hoshizukiyo", we can bask in this unadulterated Japanese voice in its entirety, as it fills the room without effort. Though I am no expert, I feel that she is singing in various traditional styles on this album. One thing is for sure: I like both her voice and the way she uses it, very much. The way changes are introduced in the music is downright wonderful, when halfway through a track every instrument goes all out only to slow down again, for the electronic instruments to go quiet temporarily, leading up to the grand finale.
"Akatsukino ito" became my favourite because this is where the lead singer shows just how much she can do with her voice. In addition, this song is as far from a Western structure as it can get (it is definitely worth to turn the volume up a bit).
I will not analyze all 14+1 tracks in detail. as I hope what I have written so far will be enough to convince the reader that WagakkiBand is a very unique music group. This is no guarantee in itself for quality, but in their case it is not only the concept that is good (mixing Eastern style with Western), but the way they carry it out as well, due to the professionalism and talent, and last but not least the respectful attitude of the 8 musicians towards each other. Nobody is stealing the limelight; still, every one of them gets their proper opprtunity to shine.
A large portion of their audience was eager to see what they can come up with when they have to write their own songs, as their first album was a collection of exceptional cover songs. Fortunately, this did not prove to be a problem, and the band was capable of producing compositions just as exciting. Ballads, faster and slower, emotional and energetic tracks follow each other, ready to convince every doubting listener.
The bonus Blu-Ray live concert is the New Year`s performance from 2015, proving that the group is not only able to produce this particular music in the studio, but live as well. I am still an avid fan of Suzuhana Yuko`s kimono, and based on what I`ve seen, I believe the key to their success is at least partially the strong female presence in the band. No wonder that the new DVD / Blue Ray that comes out this March features the New Year`s concert from 2016. Based on the trailer, that was a fun evening, as well.
Band members:
Suzuhana Yuko – vocals
Ibukuro Kiyoshi – koto
Kaminaga Daisuke – sakuhachi
Ninagawa Beni – shamisen
Kurona – vadaiko (Japanese drums)
Machiya – guitar
Asa – bass guitar
Wasabi – drums
Track list:
CD
1. ikusa
2. Hoshizukiyo
3. Perfect Blue
4. Tsuioku
5. HAGANE
6. Fuurin no utautai
7. Hanabi
8. Kyosyu no sora
9. Akatsukino ito
10.  Shiromadara
11. Nadeshikozakura
12. Hangeki no yaiba
13. Senbonzakura
14. Hanafurumai
Exrta track
15. Chikyuu saigo no kokuhaku wo
Blu-ray
1. Rokucyounen to ichiya monogatari
2. Hanabi
3. Hoshi tsuki yo
4. Ikusa
5. Nadeshiko Zakura
6. Koto Solo
7. Kyousyu no sora
8. Nijiiro Chou Chou
9. Noushou Sakuretsu Girl
10. Setsuna Trip
11. Tengaku
12. Senbonzakura
13. Children Record
Written by: Tamas Galgóczi
Translated from Hungarian by: Sarolta Szabo