Hallgatnivaló
Interjú
Inteview with Don Airey – September 2012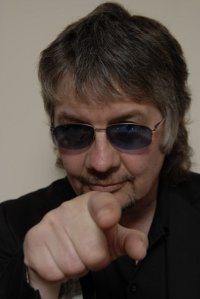 ekultura.hu:
What happened after your second album with Deep Purple? What prompted you to launch a new solo career?
Don Airey:
Ed van Zijl from Mascot Records offered me a record deal – I think he was fed up with just signing guitar players to his label. There was a gap in Purple's schedule so I wrote some songs around the theme of astronomy, (a hobby of mine), booked studio time and musicians and went and made a record (Light in the Sky).  
ekultura.hu:
How did you recruit the musicians for your band?
Don Airey:
Bassist Laurence Cottle worked on
K2
my first solo venture in 1988, drummist Darrin Mooney I have known since the early 90s, banjoist Rob Harris has been a friend and collaborator for a similar time, and it was a question of "when are you free?" Quite difficult getting everyone together at the same time.  
ekultura.hu:
What can and to what extent did they contribute to what you put on the albums?
Don Airey:
The recording sessions were very tight, with everything written out, due really to the old constraints of time and money. As each of them is able to play a song perfectly after one run-through a high standard of musicianship and spontaneity was much in evidence. – "Get it right first time" kind of vibe which added some real zip to the takes.  
ekultura.hu:
How in your opinion does
All Out
differ from
A Light in the Sky
?
Don Airey:
It's a bit more focused, better recorded, and there is a lot more Hammond on it. We put my A100s through 2 Leslie 122 cabinets, Hughes and Kettner, and Marshall 100watt heads into two 4x12 cabinets and all recorded by a forest of microphones, live with the band, solos included.  
ekultura.hu:
Would you say that you're still exploring new musical avenues or is what you're doing a logical continuation of what you've been doing before?
Don Airey:
No I am definitely trying to do something a bit different from a run of the mill rock album. There is quite a touch of my old band Colosseum II and the Mahavishnu Orchestra.  
ekultura.hu:
Which songs from
All Out
resonate most with audiences?
Don Airey:
We have not played much of it live yet, but "People in your Head" the track that features a guest appearance by Joe Bonamassa seems to go down well.  
ekultura.hu:
Which tracks from the new album are your favourite ones? (Why?)
Don Airey:
"Estancia", simply because its one of my favourite pieces of music by one of my favourite composers (Alberto Ginastera), and "Tobruk" which has a very personal edge to it. Also neither track has any guitar on it and no one has complained yet!!  
ekultura.hu:
What could you tell us about the general reception of your new album and the tour?
Don Airey:
Fantastic reviews in the music magazines and from a lot of prog fans – I'll tell you about the tour in three weeks or so when it is over.  
ekultura.hu:
Are you looking forward to coming to Hungary again? What memories of the country do you have?
Don Airey:
My first time in Hungary was in 1989 making a video (in the pouring rain) with an Italian band called Crossbones. I was impressed by the food, the hospitality and of course the fact there was music everywhere you went. Since then I have been 4 times with the Purps and we always seem to go down well. Also we have a great support band featuring a kbdist called Joseph whose playing I love. So really looking forward to bringing some of my own music to your wonderful country  
ekultura.hu:
On a totally different note, how did the death of Jon Lord affect you personally?
Don Airey:
I lost someone whose playing and quintessential Englishness I admired immensely, and who over the last ten years had been kindness itself to my tech son Mike, and myself. We were in the middle of recording the new DP album in Nashville when the awful news about Jon came through. It was difficult to get anything done for the next couple of days.  
ekultura.hu:
How does your solo project relate to what Deep Purple is doing now? Will it in any way have an impact on the music of the new album of the band?
Don Airey:
It is separate – a whole different vibe! There is nothing in the world quite like Deep Purple I have to say.