Hallgatnivaló
Interjú
Interview with Melissa Ferlaak Koch (Echoterra) – July 2011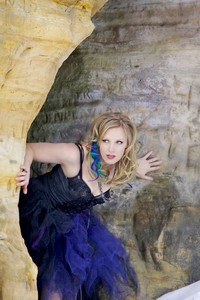 ekultura.hu:A lot has happened in your life since you left Visions of Atlantis, and also Europe, in 2007. Which of the events of the past four years had a lasting influence on your career?
Melissa Ferlaak Koch: Yes, a lot has definitely happened. Over the course of one year, my life was flipped upside-down from what I previously knew it to be. I was married, had a child and in a different career. And I started to miss the stage, a lot. I asked a few friends if they knew of any good bands in Minnesota looking for a singer and Echoterra was immediately suggested. Not only did I love what I heard, but all of us are in a similar situation and all come from larger known bands also. Interestingly, Echoterra had approached me right after I joined Visions of Atlantis, but of course, couldn't do it then. Funny how things turn out!

ekultura.hu: Why did you decide not to continue your collaboration with your husband, Wolfgang Koch?
Melissa Ferlaak Koch: Well, Wolfgang prefers to play thrash metal. We tried working on some songs, but it just didn't mesh. Thrash has always been in his heart, not symphonic metal. Also, when one is playing, the other needs to watch Carmen. So logistically it didn't work out. I think maybe someday we should create a children's album together.
 
ekultura.hu:How difficult was it to re-acclimatize yourself on your return to the US and how does the American metal scene differ from that of Europe?
Melissa Ferlaak Koch: It wasn't hard because I never officially left. But metal and symphonic metal in the US is certainly not as popular as it is in Europe. So being in Echoterra will be difficult, however we are unique to the US so that does give us an edge.

ekultura.hu: How did you become involved in Joakim Severinsen's project, Adyta?
Melissa Ferlaak Koch: He just emailed me. I really liked what I heard and wanted to contribute. It was just for the one album as he needs to find a singer in his own country to really take Adyta forward and play live.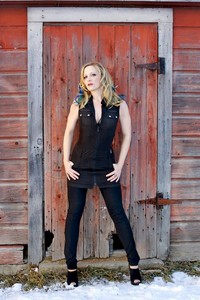 ekultura.hu: What did Adyta give you professionally?
Melissa Ferlaak Koch: Working on Adyta really propelled me forward and made me realize I missed singing this style and that symphonic metal really is what I need to be singing. It is what speaks to my heart the most.

ekultura.hu: What other musical projects – metal or classical – did you pursue in the past four years, before joining Echoterra?
Melissa Ferlaak Koch: I worked with an opera scenes group called Coro here in the Twin Cities and sang as guest vocals on a few other albums like Withering Soul, Drachen and again with Aesma Daeva (in fact, played a few shows with them too!). But having a little child is a lot of work, in addition to my work during the day as the Director of Education for arts organizations.

ekultura.hu: Who came up with the idea of forming the band?
Melissa Ferlaak Koch: Yan and Jonah did well before I came along. They started the band in 2007 and asked Suvi Virtanen from Therion to sing. She was the singer on their debut, The Law of One. Because they decided then it was best to create a live band, right at the same time I was looking for a band, we were introduced and its history from there!

ekultura.hu: What do we need to know about the members?
Melissa Ferlaak Koch: All of the guys are really talented musicians with a lot of heart. I think all of us have been around the music industry long enough that we know the secrets and pitfalls. It ultimately led us to the decision that we can release our upcoming album, Land of the Midnight Sun, on our own without any loan from a record label.
 
ekultura.hu:How would you define your music? What niche of femme metal do you fit into?
Melissa Ferlaak Koch: I'd probably say symphonic metal, but honestly, the new album spans a lot of different subgenres and even a bit of rock. It challenges the ear a bit too with some different synthesizer sounds. And I'll be honest, it's purposely not as polished as a lot of symphonic metal bands have gotten… we wanted a bit of rawness… it's metal after all, not a symphony.

ekultura.hu: Judging from what I heard from the new album, you still retained some European elements in your music. Who were your main influences?
Melissa Ferlaak Koch: Hm, well we all have different influences but we also firmly believe in making our own sound. Yan does like Nightwish and Jonah listens to such a variety of music, but seems to come back to a cinematic or film music sound. I've been working with another band called Beautiful Filth and worked on my more pop voice sound versus classical, which I decided to blend into this album, along with my classical voice. We tried a lot of new things.

ekultura.hu: Do you have any favorite tracks form the new album?
Melissa Ferlaak Koch: That is tough…but I guess if I had to choose, "Genes of Isis", "Midnight Sun" and oddly, "Welcome My Friend of Misery". "Genes" is very epic, very standard symphonic metal and has lots of fun vocal tricks. "Midnight Sun" is super heavy. "Welcome my Friend" is just so different. I didn't like it at first, but now I love it!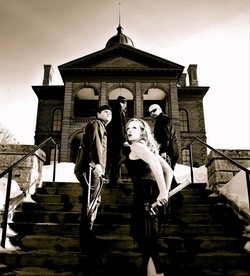 ekultura.hu: What role will community sites have, or have they already had, in the promotion of the album and the band?
Melissa Ferlaak Koch: Community sites, underground writers, word of mouth and everyone will be so helpful in promoting the band. Like I said, we are not going with a record label and are doing this ourselves. We have personally invested a lot both in time and money. It's why it will be important for us the album is never leaked or illegally distributed. It hurts us, the band members, directly. On the same note, helping us spread the word if you like it, tell your friends! When I say in the latest promo video for the album that each of you plays a strong role in what we do, I really really mean it.

ekultura.hu: What are your long-term plans with the band?
Melissa Ferlaak Koch: Well, we have a full year planned out with some shows in the US and maybe north and central America. We are releasing a video to go along with this album and are already starting to write the next album. Maybe some special surprises come our way.

ekultura.hu: Will we ever see you live in Europe?
Melissa Ferlaak Koch: Perhaps, hopefully, October 2012.