A film a II. világháború után kezdődik, de szinte csak egy pillanatot láthatunk a főszereplő, Bernward Vesper életének egy igen fontos jelenetéből. Majd ugrunk egy nagyot, és a '60-as években találjuk magunkat, amikor Bernward már egyetemre jár. Itt találkozik Gudrun Enslinnel, akinek a segítségével kiadót alapít, hogy apja, a Hitler-párti Will Vesper irodalmi alkotásait újra kiadhassa. Ez a kezdeményezés aztán egyre jobban kinövi magát, miközben Bernwerd és Gudrun között rendkívül viharos szerelem alakul ki. Aztán a főhősök idővel Berlinbe költöznek, összeházasodnak, gyerekük lesz, de a politika és a "Ki, ha nem mi?" korszellem nagy hatással van a sorsukra. A történelem és annak befolyásolása más utakra viszi a két főszereplőt, életük mégis azonos véget ér.

A történet valós eseményeket dolgoz fel és valódi történelmi személyeket jelenít meg. Két ember szerelmén keresztül mutatja be azt az időszakot, amikor a fiatalok először szembesülnek szüleik tetteivel és fordulnak szembe velük – a megoldást pedig a kommunizmusban remélik meglelni, de más-más módokon. A mű magyar címe sajnos nem igazán eltalált, teljesen másra irányítja figyelmünket, hiszen csak a film rendkívül kis részében láthatjuk a Vörös Hadsereg Frakciót tényleges működése közben. Inkább szó szerinti fordítással kellett volna élniük a címadóknak, hiszen a '60-as évek valóban a "Ki, ha nem mi?" szellemében teltek, ebből indultak a különféle mozgalmak, melyekre egy sajátos válasz a Vörös Hadsereg Frakció létrejötte.


A film készítése során odafigyeltek arra, hogy a világ különböző pontjain uralkodó viszonyokat megfelelően jelenítsék meg, így a vietnami háború, a német külpolitika, és az Európában eluralkodó helyzet is felbukkan a filmet rendszeresen megszakító korabeli híradós felvételeken. A készítők olyan jelenetekkel teszik még színesebbé a képet, mint amikor Bernward elutazik Londonba egy Fekete Párduc-tag előadására, majd a végén egy komoly beszélgetést is lefolytat vele.

Mindkét főszereplő nagyon jól érzékelteti a kor szellemét, és kettejük viharos szerelme mintha csak analógiája lenne a kor viharos érzelmeinek, elválásuk pedig egyben a két különböző nézőpont különválása is: elég csak a háttérből buzdítani az embereket, apróbb, passzív ellenállást kiváltani belőlük, vagy erősebb eszközökkel, radikálisabb módon kell kifejezni a világpolitikai helyzet helytelenségét? Bernward íróvá válik, Gudrun pedig Andreas Baader társaként a Frakció egyik alapító tagjává.

A mű lassan indul és sokáig vontatottnak hat, hiszen először nagyon alaposan bemutatja a két főszereplőt: milyen a viszonyuk, mi motiválja őket, hogy látják a helyzetet. Később aztán felgyorsulnak az események, és minél előrébb haladunk, a film annál gyorsabban száguld a végkifejlet felé. Ez a módszer valóban megrázóvá és sokkolóvá teszi a filmet, hiszen az alaposság miatt különösen mélyen átéljük át a karaktereket és mi is érezzük a küszködésüket. Mindkét főszereplő keresi az utat, a helyét a világban, de rengetegszer érzik reménytelennek a helyzetüket, és még az öngyilkosságot is megkísérlik – ez pedig még sokkolóbban hat, hála a részletes bemutatásnak és a rendkívül jó színészi alakításoknak.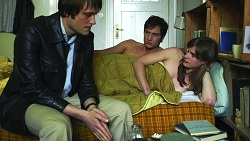 August Diehl és Lena Lauzemis egyedülálló módon formálják meg karaktereiket, és szinte szuggesztív erejűvé teszik ezt a rendkívül megrázó művet. Mi is érezzük kettejük reményeit, vágyait, vidámságát, vagy épp szomorúságát, és emiatt különösen nehéz megemészteni a rossz irányba siklott dolgokat.

Andres Veiel munkáját nem is méltatnám, hiszen azt már megtették a Berlini Nemzetközi Filmfesztiválon, ahol Alfred Bauer-díjjal jutalmazták a rendező-forgatókönyvírót. Ezt a díjat azoknak ítélik oda, akik új perspektívát nyitnak meg a filmművészetben. Veiel nyilvánvalóan megérdemelten nyert, hiszen a dokumentumfilmek irányából közelítve egy különös hatású játékfilmet alkotott, mely oly módon mutatja be a Vörös Hadsereg Frakció megalakulásához vezető tényezőket, ami valóban elgondolkodásra készteti a nézőt – de azért nem árt, ha a néző alapos ismeretekkel rendelkezik a korszakról.

Összességében véve a Vörös Hadsereg Frakció egy rendkívül eltalált, alaposan felépített filmművészeti alkotás, ami senkit sem fog hidegen hagyni, aki leül megnézni.
Bauman Tamás - 2012. január 19.