Vajon mi újat lehet elmondani egy olyan albumról, amely a heavy metal történelem egyik alapvetése, (el)ismeri és tiszteli mindenki, illetve a későbbi generációkra is igen komoly hatással bírt? Valószínűleg semmit, de nem is ez a cél, hanem, hogy felhívjuk azok figyelmét is erre az albumra, akiknek esetleg valamilyen érthetetlen csoda folytán eddig ez még kimaradt volna, valamint az az apropó, hogy a harmincadik évforduló kapcsán, egy pofás kis díszdobozban, némi bónusszal felvértezve, újra a boltok polcaira küldték a kiadványt.
 
Már a lemez kézhezvételekor, a borítóra pillantva érzékelhetjük, hogy itt szinte biztos, hogy nem valami etno-folklór muzsikával lesz dolgunk… Ugyanis a kéz, amely egy szegecses csuklószorítót visel, és az ujjai között szorít egy zsilett pengét, bizony nem utalhat másra, minthogy az elkövetkezőkben itt bizony egy kőkemény (brit) heavy metal albumot fogunk hallgatni, különféle sallangoktól mentesen. Ezzel az albummal a Priest-életműben is változás következett be, hiszen ezelőtt ennyire izmos, keménykötésű nótákat még nem raktak fel egyik addigi sorlemezükre sem.

Minden Priest-lemezre jellemző a tempós kezdés, és magától értődő, hogy ez alól itt sem lehetett kivételt tenni, így a nyitó "Rapid Fire" tökéletesen meg is felel ennek a követelménynek. A következő "Metal Gods" csak egy leheletnyit vesz vissza a tempóban, ugyanis itt egy súlyos, középtempós riffre lehet komoly mértékben headbangelni.

Ezután jön az a nóta, amelyet a Judas Priest név hallatán 10-ből szinte 10 ember egyből rá is vág, hogy "Breaking The Law". Nem véletlenül, hiszen ez a metal dalok közül az egyik legismertebb a világon. Nem utolsó sorban pedig nagyon kedves gesztus volt a zenekartól, hogy gondolt kis hazánkra is a dal elkészítésekor, és tettek bele magyar kifejezést is. Ez persze csak vicc, de talán sokan hallottak róla, én is idősebb ismerőseimtől hallottam, akik már az album megjelenésekor, vagyis a '80-as évek elején is jártak rockdiszkóba (illetve egyáltalán éltek már…), hogy ezt már akkoriban is, illetve saját fülemmel hallva mostanság is tapasztalom, hogy a mai napig úgy éneklik gyakran, h "fekete ló".

Miért is ne, ha jónéhány évvel később, ezen a sikeren felbuzdulva, a Rage Against The Machine is kedveskedett számunkra egy "kib*ott tócsa"-val.

A "Grinder"-rel ismét középtempóra váltanak, majd következik a zenekar egyik legnagyobb himnusza, a "United". Természetesen köszönhető mindez a dalszövegnek, valamint a közönséggel együtténeklős refrénnek is. A sebességen a korong leghosszabb tétele sem változtat túlságosan, marad hasonló gyorsaságban a "You Don't Have To Be Old To Be Wise".

A "Breaking The Law" mellett a másik nagy Priest-favorit, örökzöld a "Living After Midnight" is helyet kapott a lemezen. Szintén hatalmas sikert aratott, és azóta is aktív résztvevője a rockdiszkók zenei listájának, valamint a JP koncertek záródala. Nem is olyan régen a Disturbed legénysége tisztelgett úgy a zenekar előtt, hogy ezt a dalt kicsit saját szájízükre alakították, és ez a feldolgozás szerepet kapott egy tribute lemezen.

A "The Rage" kissé furának tűnhet a már-már reggae-s kezdésével és az itt-ott megbúvó effektekkel, de a kezdeti ijedelem mindenképpen alaptalan, hiszen ahogy halad a nóta előrefelé, úgy válik egyre inkább, "hagyományos" Priest stílusjegyeket felvonultatva egy remek dallá.

Ha szélvész, lendületes tempóra vágyik még a hallgató a lemez hátralévő részében, akkor sem kell csalódnia, ugyanis a "Breaking The Law" mellett itt helyezkedik el a másik komoly dinamikájú szerzemény, a "Steeler", amely ráadásul egy olyan riffel zárul, ami hallatán amellett, hogy mindenki "megörül", vigyázni is kell, mert olyan éles és úgy tud vágni, akár a borítón látható penge…

Kettő bónuszdal is helyet kapott még a lemez végén. Az egyik a "Grinder" élő verziója, a másik pedig a későbbi, '85-ös Turbo album felvételekor rögzített, de arra az albumra fel nem került "Red, White & Blue", amely egy lassabb, monumentálisabb darab. Részletesen nem térek ki, hogy melyik dalban milyen jó gitártémázgatás van, és hogy az ikergitározás magasiskolája és mintapéldája itt hallható, mert azt mindenkinek a saját fülével kell megtapasztalnia…

A Judas Priest ezeket a nótákat egy, elődeiknél jóval keményebb, durvább köntösbe bújtatta, de ennek ellenére óriási siker lett az album. A későbbi, leginkább '90-es évek végi, 2000-es évek eleji produktumaikról igencsak megoszlanak a vélemények, függetlenül attól, hogy az itt is éneklő Rob Halford, vagy Tim "Ripper" Owens helyezkedett el a mikrofon mögött, de ezelőtt az album előtt mindenki egyként hajt fejet. A lemez minden idők legjelentősebb heavy metal albumainak élmezőnyében foglal helyet, a metal történelem egyik megkerülhetetlen mérföldköve!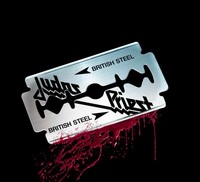 A díszdobozos kiadvány is két verzióban jelent meg: CD+DVD pakkban, amelyben a stúdióalbumon kívül egy DVD is helyet kapott. Ezen egy 2009-es fellépésüket tekinthetjük meg, amely során eljátsszák többek között elejétől a végéig a British Steel-t, valamint az album elkészítése során készült dokumentumfilmet is megnézhetjük.

A másikféle csomagban 2 CD és 1 DVD található, melyben az imént említett CD és DVD mellett egy koncert CD-re is rálelhetünk, melynek hanganyaga majdnem teljes egészében megegyezik a DVD-ével.
 
Az együttes tagjai:
Rob Halford – ének
K.K. Downing – gitár, vokál
Glenn Tipton – gitár, billentyűk, vokál
Ian Hill – basszusgitár, vokál
Dave Holland – dob
 
Közreműködő:
Scott Travis – dob (csak a 2009-es koncerfelvételeken)
 
A lemezen elhangzó számok listája:
Disc 1
1. Rapid Fire
2. Metal Gods
3. Breaking The Law
4. Grinder
5. United
6. You Don't Have To Be Old To Be Wise
7. Living After Midnight
8. The Rage
9. Steeler
10. Red, White & Blue (bónusz)
11. Grinder (koncert verzió) (bónusz)
 
Disc 2: DVD - THE BRITISH STEEL 2009 TOUR 
(2009. Augusztus 17., Seminole Hard Rock Arena, Hollywood, Florida)
1. Rapid Fire
2. Metal Gods
3. Breaking The Law
4. Grinder
5. United
6. You Don't Have To Be Old To Be Wise
7. Living After Midnight
8. The Rage
9. Steeler
10. The Ripper
11. Prophecy
12. Hell Patrol
13. Victim Of Changes
14. Freewheel Burning
15. Diamonds And Rust
16. You've Got Another Thing Coming
 
+ "Making Of British Steel" dokumentumfilm
 
Disc 3: CD - THE BRITISH STEEL 2009 TOUR
(2009. Augusztus 17., Seminole Hard Rock Arena, Hollywood, Florida)
1. Rapid Fire
2. Metal Gods
3. Breaking The Law
4. Grinder
5. United
6. You Don't Have To Be Old To Be Wise
7. Living After Midnight
8. The Rage
9. Steeler
10. The Ripper
11. Hell Patrol
12. Victim Of Changes
13. Freewheel Burning
14. Diamonds And Rust
15. You've Got Another Thing Coming
 
Diszkográfia:
Rocka Rolla (1974)
Sad Wings of Destiny (1976)
Sin After Sin (1977)
Stained Class (1978)
Killing Machine/Hell Bent for Leather (1978)
British Steel (1980)
Point of Entry (1981)
Screaming for Vengeance (1982)
Defenders of the Faith (1984)
Turbo (1986)
Ram It Down (1988)
Painkiller (1990)
Jugulator (1997)
Demolition (2001)
Angel of Retribution (2005)
Nostradamus (2008)
A Touch of Evil: Live (2009) koncert
Débali - 2010. augusztus 28.